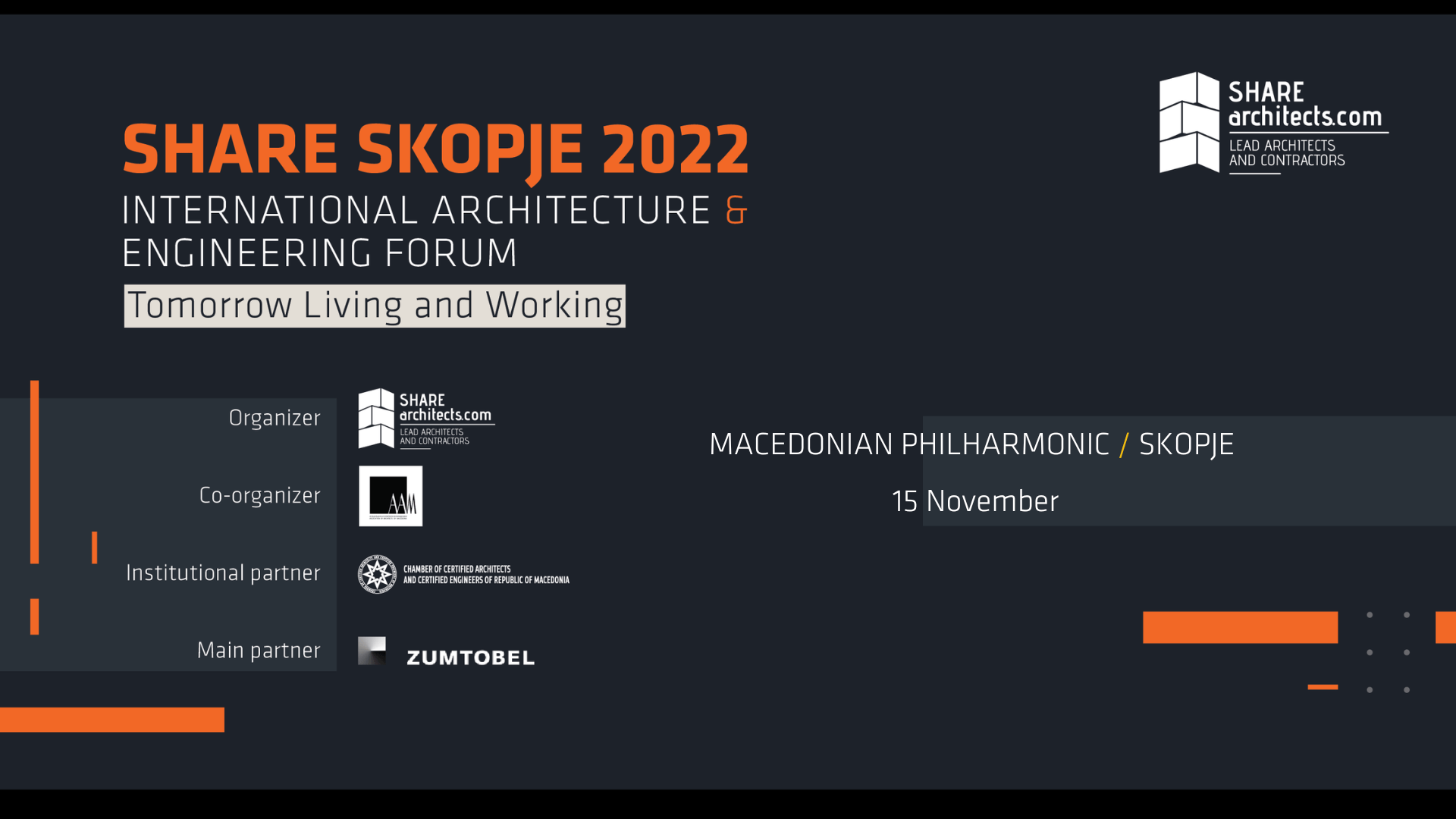 Tomorrow Living and Working - the 5th International SHARE Forum in Skopje
The SHARE International Architecture and Engineering Forum celebrates its fifth edition in Skopje and focuses on the future of living and working spaces.

The SHARE Skopje 2022 Forum will take place on 15 November at the Macedonian Philharmonic and is organized by SHARE Architects, the largest network dedicated to architecture and construction professionals in Central and South Eastern Europe, the Association of Architects of North Macedonia, and in partnership with the Chamber of Certified Architects and Certified Engineers of Macedonia.

The theme of this edition will be Tomorrow Living and Working and is addressing investors and developers, contractors, architects, consultants, and project managers as well as companies with solutions for residential and office projects.
KRISTINKA RADEVSKI
President of The Chamber of Certified Architects and Certified Engineers

Dear architects,

The Chamber of Certified Architects and Certified Engineers as a friend of SHARE Community remains committed to being an institutional partner to this prestigious professional architectural forum.

We are expecting the fifth edition of this forum to bring new energy among the architects facing solving the future challenges of our Living and Working space...
Read the entire message here
MISKO RALEV
President of Association of Architects in Macedonia

Dear fellow architects, friends, and supporters of architecture,

It is often said that architecture has always impressed people, and not only observers, users, but often architects themselves because of its key influence on all aspects of life throughout the history of human civilizations.

On behalf of the AAM, I am pleased to invite you to the 5th edition of SHARE Skopje 2022, as one of the most active events network in the region in the field of architecture and engineering.
Read the entire message here
Prof. Dr. Arch Iulia Stanciu - founder of STARH architecture office and professor at Ion Mincu University of Architecture and Urbanism in Bucharest since 1992.
She is the president of the National Commission for Granting the Signature Right of the Order of Architects from Romania.

Arch. Zsolt Gunther - Co-Founder, 3h architects, a group of architects working in Budapest. The practice's activities include the design of office, residential, public, and ecclesiastical buildings and the restoration of historic buildings.
institutional partner


main partner

Organizer contact:

Оваа е-адреса е заштитена од спамботови. Треба да ви е овозможено JavaScript за да ја видите.
CONFERENCES AWARDS COMMUNITIES PUBLISHING
W

e provide direct communication with professionals from the architecture, engineering, and construction (AEC) industry in Central and Eastern Europe.
ALBANIA BULGARIA BOSNIA - HERZEGOVINA CYPRUS CHECZ REPUBLIC GREECE HUNGARY ITALY KOSOVO MONTENEGRO NORTH MACEDONIA
POLAND REPUBLIC OF MOLDOVA SLOVAKIA SLOVENIA SERBIA ROMANIA
powered by